Finding information about plugins can sometimes be time consuming. Following is a list of shortcuts and less visible links that can make it easier to find information about these optional HTML-Kit tools.
Plugins page
is the starting point for all things related to HTML-Kit plugins. If you're just getting started, there's a
quick introduction
to HTML-Kit plugins.
If you're already familiar with plugins and simply looking for a quicker way to find information about one of the installed plugins, here's one shortcut: Let's say that you have a question about the HTML Tidy plugin.
Click the Help button (located on the top toolbar below main menu items by default). The mouse pointer will change to a help pointer.


Click the plugin icon, the HTML Tidy icon on the Tools tab in this case. The online HelpZone page will open with links related to the HTML Tidy plugin.

The
directory
section of the plugins page has categories for locating over 440 plugins. For example, if you're looking for a plugin that can help with PHP or ASP scripting, the Server Side Scripting category has links to specific languages and technologies. Or you can simply try out some of the
more popular downloads
of the day.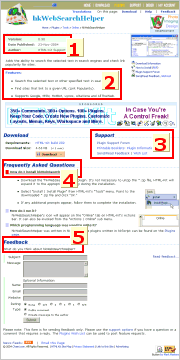 Once you pick a plugin, you'll end up on its main page. In addition to the Download section, every plugin page has the following sections.
1.
Quick Facts
such as the plugin version, when it was published or updated and the name of the author. If available, this section will also show optional information such as
download counts
,
average user rating
and links to
translated versions
of the page.
2.
Plugin Description
, list of features, steps-by-step instructions on how to use the plugin to perform common functions and other notes can be found in this section.
3.
Support
section, which is usually located next to the Download section, has links to help documents and
support forums
. Printable offline versions of
plugin booklets
are also listed in this section.
4.
Frequently Asked Questions
section provides answers to common questions such as how to install or uninstall the plugin, where it is located and how to invoke it.
5.
Feedback
section can be used to send your private comments to the plugin author, or post
public comments
about the plugin. You can also read comments posted by others and add your requests to the
Wish List
.