Most
HTML Tidy
settings can be customized using HTML-Kit's Preferences dialog. After selecting "
Edit | Preferences
" from the main menu, change to the "
Tidy
" tab to access the settings.
Advanced customization
The default settings are optimized for
getting started with HTML Tidy
as well as general use. In most cases, it's not necessary to change the default settings.
If, at some point, it's necessary to change the way tags are formatted, characters are encoded or markup is cleaned, look for the related "
Switches
" on the "
Edit | Preferences | Tidy
" dialog. A short hint about the currently selected switch will appear near the bottom of the dialog.
Only if a required setting is not included on the preferences dialog, the following steps can be used to change HTML Tidy settings using a configuration file.
Please note: Once a config file is created, the settings in it will override the settings on the Tidy preferences dialog and will stay active until the config file is modified or removed. Because of this, a config file should be considered a last resort and one of the advanced options.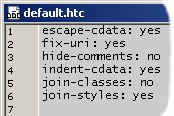 Select "Edit | Preferences" from the main menu and change to the "Tidy" tab.

Click the "Save Config" button to save the current Tidy settings to a Tidy config file. Enter

default.htc

for the "File name" and click "Save". The current Tidy settings will be saved to

[setup folder]\HTML-Kit\Data\Default\default.htc

. After returning to the Tidy tab, click "Cancel" to exit the preferences dialog.

To edit the Tidy config file, select "File | Open" from the main menu and enter

[setup folder]\HTML-Kit\Data\Default\default.htc

(or pick

default.htc

from the drop-down list or the "History" list). Add any new settings to the file or edit current settings, and save the file.

Finally, to test the Tidy config file, invoke HTML Tidy by clicking its icon on the "
Actions Bar
" or by pressing the "
F9
" key (default shortcut). If the Tidy settings are loaded from the config file, a reference to it will appear in the "
Messages Window
".