The information in this document applies to:

This document explains how to keep HTML-Kit, plugins and Web Links up-to-date.

One of the following methods can be used to keep HTML-Kit up-to-date. Usually the automated method is the easiest and the quickest way to regularly check for any updates. If a new HTML-Kit version is found, the plugins page is updated or other essential update is available, a dialog box with an option to download any upgrades will appear. Otherwise the status bar will show any update notifications. If Web Links are updated, they can be viewed by selecting "Help | Web Links" from the main menu.
To enable automated checks for HTML-Kit upgrades, plugin updates and latest Web Links:
Select "Edit | Preferences" from the main menu.

Change to the "Startup" tab.

Under "Check for HTML-Kit updates," check "Once a day." This option instructs HTML-Kit to check for updates while starting, but only once a day and only if HTML-Kit is opened.

If a regular dial-up/phone modem is used to connect the system to the Internet, check the "Skip if no dial-up connection is found" option to avoid checking for updates when an active online connection is not present.

If the "Download latest Web Links" option is checked, HTML-Kit will download the latest Web Links menu only if it has been updated since the last check.

Beta testers can use the "Look for betas" option to stay notified of any beta and alpha releases.

Click "OK."

Exit ("File | Exit") and restart HTML-Kit.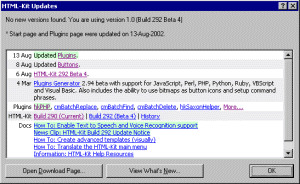 If automated checks are not enabled, following steps can be used to manually check for HTML-Kit upgrades and plugin updates:
Select "Help | Check for Updates" option from the main menu.

If the message box indicates that a new version or a build is available, follow the prompts to download and install the upgrade.

If automated checks and Web Link downloads are not enabled, to manually download the latest Web Links:
Select "Help | Web Links | Download Latest Web Links" from the main menu.

Go back to the "Help | Web Links" menu in a few seconds to view the updated links and other information.

Document ID: H000121
Reviewed On: 13-Apr-2001
THE INFORMATION IN THIS DOCUMENT IS PROVIDED ON AN AS-IS BASIS WITHOUT WARRANTY OF ANY KIND.
PROVIDER SPECIFICALLY DISCLAIMS ANY OTHER WARRANTY, EXPRESS OR IMPLIED, INCLUDING ANY WARRANTY OF MERCHANTABILITY OR FITNESS FOR A PARTICULAR PURPOSE. IN NO EVENT SHALL PROVIDER BE LIABLE FOR ANY CONSEQUENTIAL, INDIRECT, SPECIAL OR INCIDENTAL DAMAGES, EVEN IF PROVIDER HAS BEEN ADVISED BY "USER" OF THE POSSIBILITY OF SUCH POTENTIAL LOSS OR DAMAGE. "USER" AGREES TO HOLD PROVIDER HARMLESS FROM AND AGAINST ANY AND ALL CLAIMS, LOSSES, LIABILITIES AND EXPENSES.