The information in this document applies to:

Get started in authoring interactive templates that can prompt for user input and dynamically update the output. No programming experience is required since these types of templates can be created using the Plugins Generator's graphical user interface.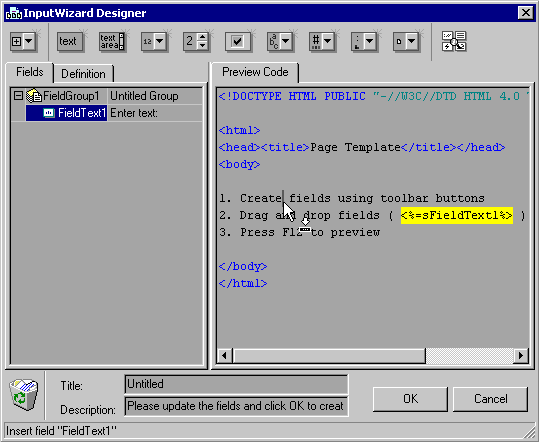 InputWizard Designer
Download and install Plugins Generator 2.95 or higher

Open the Plugins Generator and start a new file (by pressing Ctrl+N)

Rename "Button1" to "MyPageTemplate"


Add a new Action (Insert key)

Select "InputWizard Page Template [IWPT]" for the function

Click "InputWizard Designer"


Enter "Page Title" under the default "FieldText1" field

Click the "Color" button, enter "Background Color" and click "Add"

Drag the "FieldText1" field, drop between <title> and </title> and click "Ok"

Change <body> to <body bgcolor="">

Drag the "FieldColor1" field, drop next to bgcolor=" and click "OK"

Click "Preview" (last button on the Toolbar) to test your template

Once you're happy with the template, click OK to save it


Select "File | Save Plugin Code in HK's Plugins Directory" from the main menu

Enter "MyTempl1.hks" for the file name and click "Save"

Restart HTML-Kit and click "MyPageTemplate" on the "MyPlugins" tab to invoke the newly created template



Demonstrates how to use the InputWizard interface to create dynamic templates. Open the HPD file in Plugins Generator 2.96+ and invoke the InputWizard Designer to modify the template. Press F12 to preview the template.
Document ID: H000147
Reviewed On: 08-Aug-2002
THE INFORMATION IN THIS DOCUMENT IS PROVIDED ON AN AS-IS BASIS WITHOUT WARRANTY OF ANY KIND.
PROVIDER SPECIFICALLY DISCLAIMS ANY OTHER WARRANTY, EXPRESS OR IMPLIED, INCLUDING ANY WARRANTY OF MERCHANTABILITY OR FITNESS FOR A PARTICULAR PURPOSE. IN NO EVENT SHALL PROVIDER BE LIABLE FOR ANY CONSEQUENTIAL, INDIRECT, SPECIAL OR INCIDENTAL DAMAGES, EVEN IF PROVIDER HAS BEEN ADVISED BY "USER" OF THE POSSIBILITY OF SUCH POTENTIAL LOSS OR DAMAGE. "USER" AGREES TO HOLD PROVIDER HARMLESS FROM AND AGAINST ANY AND ALL CLAIMS, LOSSES, LIABILITIES AND EXPENSES.