The information in this document applies to:

HTML-Kit Build 292 includes a Text to Speech Wizard and experimental support for voice recognition. This document describes how to enable these features.


HTML-Kit's Text to Speech Wizard is located on the "Tools | Text" menu. Simply select a block of text and invoke the Text to Speech Wizard to have the text read back through the default speech engine. No additional files are required to use this feature on Windows XP and later. Systems running earlier versions of Windows may require the installation of a SAPI 5+ compatible speech engine.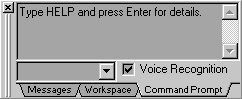 Experimental support for Voice Recognition (also referred to as Speech Recognition) is provided through HTML-Kit's Command Prompt interface. The default list of command phrases recognized by HTML-Kit is accessible through the "Help | Command Prompt" main menu option. New phrases can be added using the Plugins Generator. To enter the Voice Recognition mode, make sure that the "Messages Window" is visible, change to the "Command Prompt" tab on the Messages Window and check the "Voice Recognition" option. If a SAPI 5+ compatible speech recognition engine is installed on the system, HTML-Kit will enter the Voice Recognition mode at which point any of the default or custom phrases can be used to invoke commands associated with them.

Document ID: H000149
Reviewed On: 13-Aug-2002
THE INFORMATION IN THIS DOCUMENT IS PROVIDED ON AN AS-IS BASIS WITHOUT WARRANTY OF ANY KIND.
PROVIDER SPECIFICALLY DISCLAIMS ANY OTHER WARRANTY, EXPRESS OR IMPLIED, INCLUDING ANY WARRANTY OF MERCHANTABILITY OR FITNESS FOR A PARTICULAR PURPOSE. IN NO EVENT SHALL PROVIDER BE LIABLE FOR ANY CONSEQUENTIAL, INDIRECT, SPECIAL OR INCIDENTAL DAMAGES, EVEN IF PROVIDER HAS BEEN ADVISED BY "USER" OF THE POSSIBILITY OF SUCH POTENTIAL LOSS OR DAMAGE. "USER" AGREES TO HOLD PROVIDER HARMLESS FROM AND AGAINST ANY AND ALL CLAIMS, LOSSES, LIABILITIES AND EXPENSES.